Energy: It's time to switch!

The international community is committed to fighting climate change and, to that end, accelerating the energy transition. Albioma is deploying all its expertise and its capacity for innovation to tackle this major ecological challenge taken up collectively and set in the framework of the Climate Plan adapted to France in 2017.
Working towards
Energy transition in Overseas France
Biomass of plant origin is a source of renewable and non-intermittent energy serving unstable networks. We are promoting our growth through the recovery of biomass waste, a plentiful resource which is still under-exploited.

Biomass energy can produce electricity through the heat generated by the combustion of organic matter. In particular, waste of plant origin is used: agriculture residues such as industrial pallet shreds, logging debris and above all bagasse, the fibrous residue of sugar cane obtained after extraction of the sugar.

For more than 20 years, Albioma has been developing a unique partnership with the sugar industry that allows us to transform bagasse locally into energy thanks to power stations located near the sugar cane farms. Thanks to this model, we ensure the stability of the power grids in Overseas France, areas cut off from continental energy production, under extremely competitive economic conditions, respecting the hierarchy of use. This model allows us to produce base-load renewable energy, available 7 days a week, 24 hours a day.
Working towards
Energy transition in Overseas France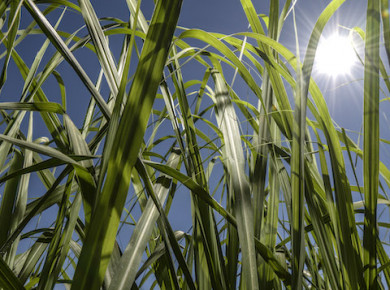 Rolling out
The Albioma model internationally
Since 2000, with Mauritius, we have been successfully developing our partnership model with the agro-industrial sector. Today we produce 45% of the electricity on the island. In 2014, this unique know-how enabled the Group to roll out its original model in Brazil, the world's leading producer of sugar and of ethanol obtained from sugar cane. Brazil naturally remains our international priority for the coming years.

With the ambition of continuing the development of its model at a sustained pace, Albioma is also studying other opportunities for biomass recovery, without any conflict of use.

Learn more about our international development.
Rolling out
The Albioma model internationally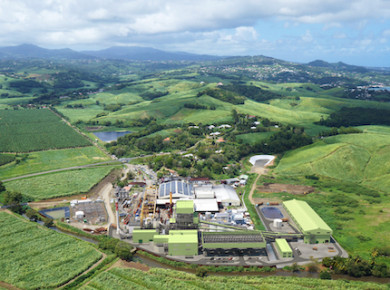 Accelerate
Development in solar electricity
The leading producer of solar electricity in Overseas France, we focus on photovoltaic power station projects with high added value and which, notably, include the use of storage technology. This enables us to offset the intermittent nature of solar energy and, so, increase the hours of availability per day. As in the case of biomass, these ground-based or rooftop installations are erected with a view to improving local areas, avoiding any conflict of use.
Accelerate
Development in solar electricity