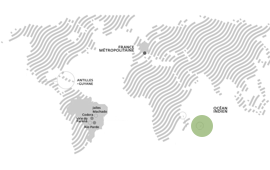 Type:

Thermal biomass power plant

Installed since:

2005

Installed capacity:

35 MW

Workforce:

35 personnes
After the Terragen plant, Saint-Aubin was the second thermal power plant to be built in Mauritius, consolidating Albioma's status as an electricity producer in this territory.

Activities
The Saint-Aubin power plant in southern Mauritius has been operating since 2005. It has an installed capacity of 35 MW and belongs to a company jointly owned by Omnicane, Albioma and the Sugar Investment Trust, an investment cooperative managed by Mauritian sugar industry workers. In 2018, the Saint-Aubin power plant supplied 226 GWh of electricity to the Mauritian network.
35
MW
of installed power capacity
226
GWh
of electricity generated in 2018
Significantly reduced water consumption
At the Saint-Aubin plant, water consumption was decreased by 8% between 2015 and 2016, following the installation of a dry ash removal system, which eliminated the need to use water for the purpose.