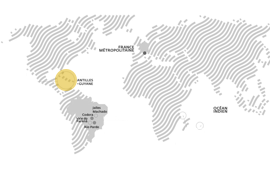 Type:

Solar power plant

Installed since:

2009

Installed capacity:

192 kWp

Address:

Route port autonome, Baie Mahault, Guadeloupe
Albioma has been operating the CTM solar power plant since 2009, generating renewable electricity in Guadeloupe.
Plant description
The Jarry Silo site hosts the third solar power plant built, commissioned and operated by Albioma in Guadeloupe. Located in an area that enjoys very long sunshine hours but is not connected to mainland power networks, CTM has an installed capacity of 192 kWc and supplied 155 MWh of electricity in 2022.
No conflicts of use
The CTM solar power plant is installed on the steeply sloping (>30°) roof of an industrial building, enabling dual use of the land with no conflicts of use.