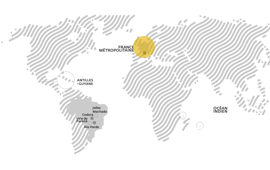 Type:

Solar power plant

Installed since:

2010

Installed capacity:

1,3 MWp

Address:

Lieu-dit "La Côte", 34690 Fabrègues
In metropolitan France, Albioma commissioned its second solar power plant in 2010, in the town of Fabrègues, situated between Montpellier and Sète.
Plant description
The Fabrègues solar power plant is located on a 4-hectare industrial site in France's Hérault department. Featuring nearly 17,000 solar panels installed over a 1.2 hectare area, the plant has an installed capacity of 1.3 MWp and generated 1.5 GWh of electricity in 2022.
Solar panel recycling
The plant's solar panels have a design life of at least 25 years. At the end of its operating period, the plant will be dismantled and the panels sent to an environmental organisation that collects and recycles between 90 and 92% of solar panel components (e.g. glass, silicon, aluminium etc.) at its facility in Bouches-du-Rhône.