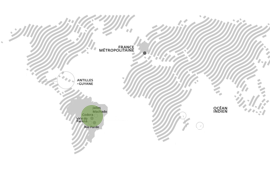 Type:

Thermal biomass power plant

Installed since:

2002

Installed capacity:

68 MW

Workforce:

40
Albioma's fourth investment in Brazil, the acquisition of Esplanada with sugar producer Jalles Machado in 2018 strengthened the Group's positioning in a strategic country for the development of its thermal biomass business.
Activities
The Esplanada biomass cogeneration unit, located in the state of Goiás, was commissioned in 2002. It is adjacent to the Jalles Machada sugar refinery and has an installed capacity of 68 MW.
715
thousand tonnes
of bagasse in maximum plant capacity
120
GWh
Annual amount exported to the electricity grid
100
%
of locally-sourced biomass
International development
Albioma's acquisition of a 60% stake in the Esplanada cogeneration unit is the second partnership with the Jalles Machado sugar group in Brazil, two years after the takeover of the Codora Energia plant. While this investment contributes to strengthening the Group's positioning in a country with more than 400 sugar mills, it also reflects the recognition of Albioma's expertise and the climate of trust that has developed between the two partners.