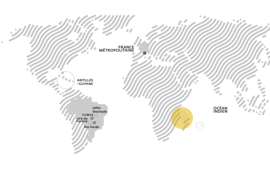 Type:

Solar power plant

Status:

In operation

Installed capacity:

0,7 MWp

Address:

Le Marché des Halles, 97600 Mamoudzou, Mayotte
In Mayotte, Albioma has commissioned the Mamoudzou solar power plant, currently the island's most powerful rooftop photovoltaic installation.
Plant description
The solar power plant on the roof over Mamoudzou market in Mayotte, in the Indian Ocean, has an installed capacity of 0.7 MWp. It is operated and maintained by a local team.
Business developed without disrupting communities
With effect from 2009, French legislation requires an impact study before all new solar projects, to ensure that the project does not create conflicts of use. The Mamoudzou plant, installed on a previously unused rooftop area, complies with this statutory requirement, as do all Albioma Group facilities.