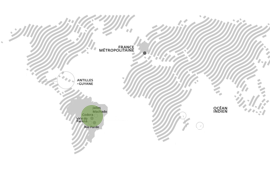 Type:

Thermal biomass power plant

Installed since:

2011

Installed capacity:

68 MW

Workforce:

37
The acquisition in 2015 of a second cogeneration plant in Brazil has consolidated Albioma's status as a renewable energy producer in a country with more than 400 sugar refineries.
Activities
The Codora Energia cogeneration plant in the State of Goiás has been operating since 2011 at a site adjoining a distillery owned by the Jalles Machado group, the world's second-largest producer of organically-grown sugar. In 2015, when Albioma acquired a 65% equity stake, the plant had an installed capacity of 48 MW, enabling it to export 98 GWh of electricity to the grid annually. The addition of a third steam turbine in 2018 increased this capacity to 68 MW.
635
thousands tonnes
of bagasse in maximum recovery capacity
176
GWh
of electricity generated in 2022
Biomass and energy production
Under the partnership agreed with Jalles Machado, 461,000 tonnes of bagasse were used in 2020 to produce low-pressure steam and 173 GWh of electricity. During the intervals between sugar cane harvests, the Codora Energia plant is supplied by other locally-sourced biomass such as cane straw and wood chips, ensuring that it continues to operate efficiently.
A strategic transaction for Albioma
The takeover of the Codora Energia cogeneration plant also strengthens Albioma's growth strategy focussed on Brazil, a promising market in which to produce green energy from bagasse. The subsequent excellent performance confirms the success of this operation, which also features a power purchase agreement securing the sale of electricity exported to the network at an attractive price.