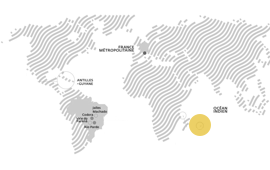 Type:

Solar power plant

Installed since:

2015

Installed capacity:

1 MWp

Address:

E.Leclerc, Le Portail Piton St-Leu - ZAC Le PORTAIL - 29, Rue du Moulin, 97424 Saint-Leu, La Réunion
The solar power plant at the E. Leclerc shopping centre in Saint-Leu, commissioned in 2015, was the first rooftop plant in Overseas France to be equipped with a battery storage system that offsets the intermittent nature of solar energy.
Plant description
The rooftop power plant at the E. Leclerc shopping centre has an installed capacity of 1 MWp. It is located in Saint-Leu, on the west coast of Reunion Island. The plant generated 1.1 GWh of electricity in 2021.
Battery storage system
To ensure a stable power output, the E. Leclerc plant is equipped with lithium-ion batteries. The batteries store energy during the day, reinjecting it to the network during evening peak consumption periods.