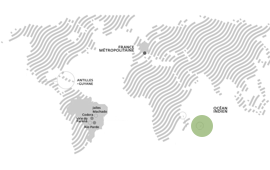 Type:

Thermal biomass power plant

In operation since:

1995

Installed capacity:

122 MW

Workforce:

71
Le Gol was one of the earliest cogeneration plants built by Albioma in Overseas France. The plant has been supplying electricity to the Reunion Island network for more than 20 years; it is partly fuelled by recovering bagasse, a fibrous residue of sugar cane.
Activities
Le Gol, located near Saint-Louis, is the second thermal biomass power plant built by Albioma on Reunion Island, after the Bois-Rouge facility. It was commissioned in 1995 and has an installed capacity of 122 MW.
Biomass and energy production
In 2022, the Le Gol cogeneration plant generated 529 GWh of electricity as well as producing low-pressure steam. Some 272,000 tonnes of bagasse from the island's sugar cane plantations were used as fuel. The share of locally-sourced biomass is set to increase further in coming years, as Albioma intends to convert the plant to operate exclusively using biomass by 2023. Outside sugar harvests, the Group is seeking to replace coal with other locally-available sources of biomass. Several potential solutions are currently being studied, including using shredded green waste or establishing a forestry biomass industry in conjunction with the Regional Authority and the national forestry office (ONF).
In a thermal power plant, cogeneration refers to the ability to simultaneously produce electricity and heat from the same primary energy source. Rather than being lost, the heat generated by the combustion process is recovered, enhancing the facility's energy efficiency.
100% biomass conversion of the Albioma Le Gol power plant
The Group has taken note of the publication of the decision of the French Energy Regulation Board (CRE) on 24 February 2022 validating the rider to the power purchase agreement and ruling on the cost of the entire project to convert the Albioma Le Gol power plant on Reunion Island to biomass, as well as its extension of operation until 2044. This favourable opinion follows the publication of the ministerial decree of 17 January 2022 establishing the rate of return on capital invested in the conversion work, which was set according to the proposal made by the CRE.