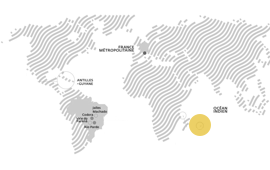 Type:

Solar power plant

Installed since:

2016

Installed capacity:

9 KWp

Address:

Ecole Iris Hoarau, 23 rue de la Petite Île, 97400 Saint-Denis, La Réunion
In 2016, Albioma commissioned a solar power plant for onsite consumption on the playground roof at the Iris Hoarau school in Saint-Denis, Reunion Island.
Site description
In Saint-Denis, in the north of Reunion Island, Albioma and the Iris Hoarau school worked together to build a solar power-equipped playground shelter for on-site consumption. The PV roof has an installed capacity of 9 KWp and supplied 13.5 MWh of electric power to the school in 2018.
A project offering multiple benefits
The new solar rooftop supplies electricity to the school, provides shelter for students and is a very practical tool for discussing renewable energy issues with them. A digital metering system enables students to monitor their school's power consumption in real time, providing invaluable insights relating to energy independence, a crucial issue in regions not connected to mainland power grids.