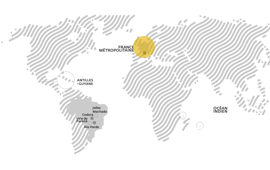 Type:

Solar power plant

Installed since:

2010

Installed capacity:

7 MWp

Address:

Lieu-dit « Le petit tribon », 26 700 Pierrelatte
Albioma began operating its first solar power plant in metropolitan France in 2010, in Pierrelatte, midway between Valence and Avignon.
Site description
The Pierrelatte solar power plant is built on 25 hectares of industrial land in the Drôme department. The facility has an installed capacity of 7 MWp, and generated 7.3 GWh of electricity in 2021.
Blended into the landscape
Since the plant was commissioned, a flock of sheep has tended to the site, which is host to nearly 100,000 solar panels. From the outset, care was taken to blend the plant into its surroundings, for example by fitting cladding on plant rooms and laying an underground connection to the electricity network.