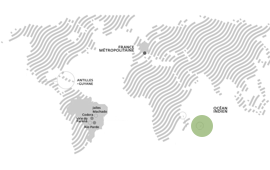 Type:

Bioethanol power plant

In operation since:

2019

Installed capacity:

41 MW

Workforce:

6
The first power plant in the world using bioethanol, the bioethanol combustion power plant of Saint-Pierre came into service in 2019 to produce energy for peak periods, securing the Réunion Island power grid.
Activities
Located to the south of Réunion Island, the Saint-Pierre power plant was built on 1.3 hectares of former wasteland as part of a request for proposals won by Albioma in 2014. With an installed capacity of 41 MW, it entered into production to supply the grid with energy especially during peak consumption periods.
The first bioethanol combustion power plant in the world
A worldwide first, Saint-Pierre is the only power plant in the world with a turbine using bioethanol. When this liquid fuel burns it releases hot gases, and it is this pressure that drives the turbine. This turbine is connected to a generator which then enables the mechanical energy to be transformed into electrical energy. The Saint-Pierre turbine is also noted for its exceptional adaptability. Depending on the needs of the grid, it can be started up in just seven minutes for generating electricity at various capacities.
7
Minutes
to start up/shut down the power plant
A local supply of bioethanol
For its operation, the Saint-Pierre turbine will use several tonnes of locally produced ethanol every year. This alcohol is obtained from molasses, itself a by-product of sugarcane used in rum production. However, in Réunion Island, there is a surplus production of molasses over and beyond the authorised quota. So Albioma concluded an agreement with the Rivière-du-Mât distillery to reuse the surplus alcohol at the Saint-Pierre site.