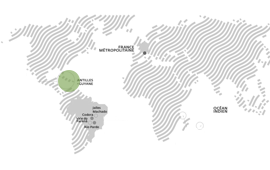 Type:

Combustion turbine

Installed since:

2007

Installed capacity:

40 MW

Workforce:

40
The Galion power plant - the first combustion turbine built and operated by Albioma - supplies power at times of peak demand, supplementing the output from Martinique's other power plants and consolidating the electricity network.
Activities
The Galion peaking plant, which began operating in 2007, is located in Trinité in eastern Martinique, near the Galion sugar refinery. Featuring a fuel-oil-fired combustion turbine with an installed capacity of 40 MW, the plant is designed to generate electricity during peak consumption periods.
State-of-the-art plant ensuring continuity of supply
In 2017, the Galion combustion turbine operated for 5,900 hours, supplying 96 GWh of electricity to the network, representing approximately 6% of the island's power requirement. This share is expected to decrease following the commissioning of the all-biomass Galion 2 cogeneration plant in 2018.