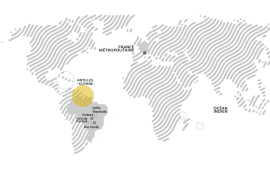 Energy:

Solar

Installed since:

2010

Installed capacity:

16 MWp
Albioma is the leading producer of photovoltaic energy in Overseas France. We are in French Guiana since 2010, developing innovative solar power projects that are increasing the share of renewable energy available in the region.
Background
Installed photovoltaic capacity in French territories increased tenfold between 2008 and 2010. In French Guiana, a region with high annual sunshine hours, the Group operates two photovoltaic power plants, Matoury and Kourou, located in areas free from conflicts of use. The larger of the two – and indeed the largest anywhere in Overseas France – is located in Kourou. Its ground array of 156,000 photovoltaic modules represents an installed capacity of 12 MWp, delivering up to 10% of French Guiana's peaking electricity.
Discovering our Guyanese power plant
Working for greater energy independence
In 2022, Albioma photovoltaic installations supplied 16,9 GWh of peaking electricity, supplementing the region's other production facilities. As well as contributing to network stability, particularly during peak consumption periods, the rollout of solar power is accelerating French Guiana's energy transition. This strategic objective is supported by Albioma and consistent with France's multiyear energy plan (PPE), which aims to increase the share of renewable energy in French Guiana's electricity mix to 85% by 2023.