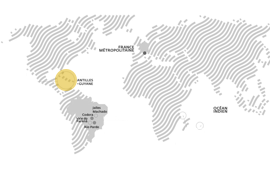 Type:

Solar power plant

Installed since:

2011

Installed capacity:

254 KWp

Address:

Usine sucrière SAEM du Galion, La Trinité, Martinique
In 2011, Albioma commissioned a rooftop solar power plant at the Galion sugar refinery in Martinique, to produce renewable electricity in this territory not connected to mainland networks.
Presentation of the site
The Galion solar power plant is located in Trinité, to the north of Martinique, on the roof of the island's only sugar refinery. It is located in the immediate vicinity of Galion 2, the 100% biomass power plant operated by Albioma since 2018, and has an installed capacity of 420 KWp. In 2022, it supplied 310 KWh of electricity on the grid.
A plant without conflict of use
The 3,525 panels of the Galion solar power plant are deployed on the roof of the sugar refinery, where they occupy an area of 2,538 m2, without conflict of use. Because of this location, part of the energy produced is used to cover the operating needs of the sugar refinery, while the rest is injected onto the grid.