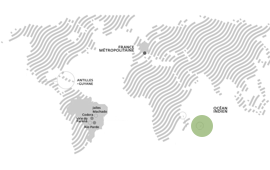 Type:

Thermal biomass power plant

Installed since:

2000

Installed capacity:

70 MW

Workforce:

49
The first biomass-fuelled thermal power plant operated by Albioma outside Overseas France is the Terragen plant in Mauritius, which has been producing renewable energy from bagasse (a fibrous residue of sugar cane) since 2000.
Activities
The Terragen cogeneration plant located in Mapou, in northern Mauritius, has an installed capacity of 70 MW. Albioma is a shareholder of the company that owns the plant, alongside the Terra group, which owns the adjacent sugar refinery.
Biomass and energy production
Since 2015, Terragen has been operating a scheme to mow and collect 50% of the cane straw left as stubble after harvesting certain fields. This straw is compressed to form 500 kg bales, which are then transported to the plant for use as fuel. This process, developed with expert input from Albioma's technical specialists, makes it possible to recover a locally-sourced renewable fuel in place of coal. It reflects Terragen and Albioma's intention to expand their use of biomass, in the national interest.