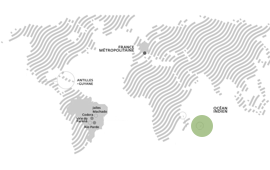 Type:

Thermal biomass power plant

Installed since:

1992

Installed capacity:

108,5 MW

Workforce:

67
The first bagasse/coal hybrid thermal power plant in France was established by Albioma in 1992 at the Bois-Rouge site. It was then the only one installation on the island able to convert bagasse, a fibrous residue from sugar cane, into electricity to supply the Réunion power grid.
Activities
Located in the north of Réunion Island, the Bois-Rouge cogeneration plant has an installed capacity of 108.5 MW, compared to 60 MW when it first opened in 1992. It is adjacent to the Bois-Rouge sugar refinery which, during the sugar harvests, feeds it with the bagasse needed for its activity.
Biomass and energy production
In 2018, the Bois-Rouge plant processed 230,543 tonnes of bagasse and 150 tonnes of green pulp into low pressure steam and electricity. Faithful to the cogeneration principle, part of this energy was returned to the neighbouring sugar refinery, whilst the rest was sent to the Réunion grid. In 2018, this part was 650 GWh.
230
thousand tonnes
of bagasse and 150 tonnes of green pulp used in 2018
650
GWh
of electricity produced in 2018
A move towards a 100% biomass energy mix
As well as sugar harvests, Albioma is looking to reuse other renewable energy sources, such as green shreds, in order to convert the Bois-Rouge plant to 100% biomass by 2023. This development is in line with the targets set by the energy transition law and which is now part of Réunion Island's multi-year energy plan.