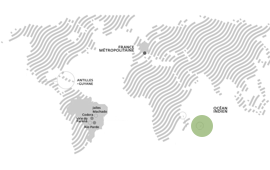 Type:

Thermal biomass power plant

Installed since:

1992

Installed capacity:

108 MW

Workforce:

67
The first bagasse/coal hybrid thermal power plant in France was established by Albioma in 1992 at the Bois-Rouge site. It was then the only one installation on the island able to convert bagasse, a fibrous residue from sugar cane, into electricity to supply the Réunion power grid. In 2020, the Group announced the conversion of the plant to 100% biomass.
Activities
Located in the north of Réunion Island, the Bois-Rouge cogeneration plant has an installed capacity of 108 MW, compared to 60 MW when it first opened in 1992. It is adjacent to the Bois-Rouge sugar refinery which, during the sugar harvests, feeds it with the bagasse needed for its activity.
Biomass and energy production
The Bois-Rouge plant processed bagasse and green pulp into low pressure steam and electricity. Faithful to the cogeneration principle, part of this energy return to the neighbouring sugar refinery, whilst the rest is send to the Réunion grid.
Conversion of the power generation facility to biomass
Albioma announced on 8 December 2020 the complete discontinuation of coal at its historic Bois-Rouge plant on Reunion Island, following the deliberation by the Energy Regulatory Commission (CRE). The latter validated on 3 December 2020 the offsetting resulting from the signature of an amendment to the power purchase agreement signed by EDF for the conversion of the Albioma Bois-Rouge power generation facility to biomass.
Conversion work started in 2021 so that the plant can be 100% biomass-powered in Second Half 2023, with priority given to the local biomass deposits available (bagasse, forest wood, pruning wood, etc.), supplemented by imported wood pellets from FSC® and PEFC-certified forests, the traceability procedure of which will be compliant with the EU Wood Regulation (RBUE).
Ultimately, the conversion will increase the proportion of renewables in the energy mix on Reunion Island from 35% to 51% and make it possible to reduce greenhouse gas emissions by approximately 640,000 tonnes of CO2 equivalent per year, i.e., an 84% decrease in direct emissions compared to the plant's current operating levels.
As part of its biomass conversion work in the East Port, the 1st storage dome was inflated on September 13, 2021, and the 2nd on October 1. These domes of 45,000 m3 and a height of 39 meters are now visible from the municipalities of Port and La Possession as well as from the traffic lanes.
Discover their inflation in pictures.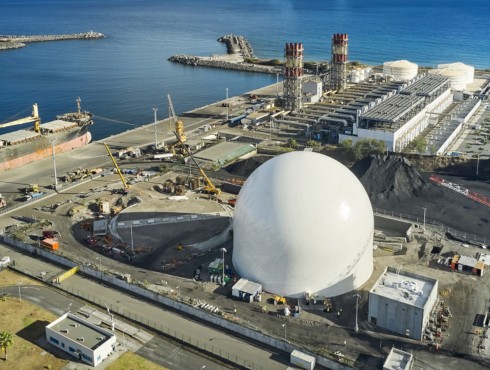 D. Dijoux