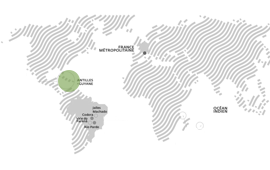 Type:

100% thermal biomass power plant

Installed since:

2018

Installed capacity:

40 MW

Workforce:

40
As the first exclusively biomass-fuelled power plant in Overseas France, Galion 2 represents a milestone achievement in Martinique's energy transition, supplying renewable electricity to grid all year round.
Activities
Galion 2, operated by Albioma, is the first power plant in Overseas France to produce electric power and low-pressure steam using biomass only. The plant has an installed capacity of 40 MW and is expected to representing 19% of total demand from the grid.
160
thousands tonnes
of biomass used in an annual production cycle
Biomass and energy production
Following the commissioning of Galion 2 in 2018, renewable electricity as a share of total production in Martinique has tripled from 5% to 19%. During sugar harvests, the plant is supplied with bagasse (a fibrous residue of sugar cane) under the terms of a partnership with the neighbouring Galion sugar refinery. The rest of the year, this fuel source is supplemented with other forms of locally-sourced biomass, including cane straw, chipped green waste and lagging waste, as well as wood pellets imported from the United States. These pellets are sourced from sustainably-managed forests, and are finely chipped and then compressed to increase their density, enabling more efficient transport and storage. Over time, the share of locally-sourced biomass is expected to increase to 40%.
Environmentally-friendly business
In addition to enhancing the stability of the electricity network, replacing coal with plant biomass is helping to decarbonise Martinique's energy mix while complying with extremely stringent environmental standards. The Galion 2 power plant is also equipped with a three-stage fume and fine particle filtration system, which has slashed emissions by a factor of 100 from their initial levels. This new facility is accelerating Martinique's energy transition while simultaneously furthering Albioma's strategy aimed at achieving a target of 100% renewable energy in its production mix by 2030.