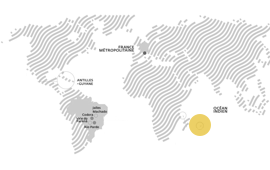 Type:

Solar power plant

Installed since:

2007

Installed capacity:

2 MWp

Address:

Site d'enfouissement des déchets de Sainte Suzanne, La Réunion
On Reunion Island, Albioma commissioned its first solar power plant - La Star - in 2007, on a landfill site still in operation.
Site description
Located in Sainte Suzanne, in the northern part of Reunion Island, the La Star solar power plant has an installed capacity of 2 MW. In 2022, it supplied 2.4 GWh of renewable electricity to the network, making a valid contribution to the region's energy independence and energy transition.
No conflicts of use
The facility is the first of its kind in France designed to cope with differential compaction! The La Star power plant was designed to be deployed directly over the landfill site's disposal cells without impacting its operation.