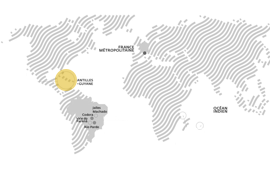 Type:

Solar power plant

Status:

In service

Installed capacity:

3.3 MWp

Adress:

Centre de traitement et de valorisation des déchets de l'Espérance, 97115 Sainte-Rose, Guadeloupe
In Guadeloupe, Albioma has accelerated the rollout of its solar power business, commissioning an innovative new power plant at the Sainte-Rose site in July 2019.
The Sainte-Rose solar power plant, sited on land owned by the Espérance waste processing and recovery centre, has an installed capacity of 3.278 MWp. It is designed to generate 4,6 GWh of electricity annually, equivalent to the consumption of 4,200 people, in so doing avoiding the release of 3,850 tonnes of carbon dioxide into the atmosphere.
A pro-sustainable development project
The Sainte-Rose solar power plant was built as part of the TEPCV "positive-energy for green growth area" initiative, for which the Nord Basse-Terre urban authority was selected. The new facility – which is playing its part in Guadeloupe's energy transition – is also equipped with lithium-ion batteries to overcome the intermittent nature of production. Energy stored over the course of the day is reinjected into the network during overnight consumption peaks, helping to keep the electricity network stable.