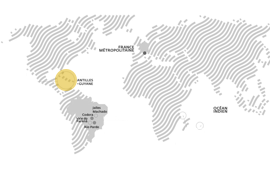 Type:

Solar power plant

Installed since:

2009

Installed capacity:

162 KWp

Address:

Lotissement Caraïbes, Moudong centre jarry Baie-Mahault, Baie Mahault 97122, Guadeloupe
Albioma commissioned the Sodicar Matouba power plant in 2009, in order to generate renewable electricity in Guadeloupe.
Plant description
Situated in the Jarry industrial estate in Baie-Mahault, in central Guadeloupe, the Sodicar Matouba solar power plant is installed on the roof of an industrial building. It has an installed capacity of 162 KWp and supplied 169 MWh of electricity to the network in 2021.
No conflicts of use
Due to its rooftop location, the Sodicar Matouba solar power plant does not conflict with the development of other activities. It consists of 924 solar panels deployed over a roof area of 1,300 sq. m.