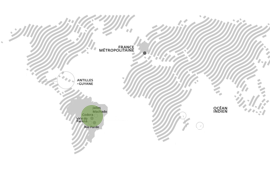 Type:

Thermal biomass power plant

Installed since:

2009

Installed capacity:

60 MW

Workforce:

29
The Rio Pardo Termoelétrica bagasse-fuelled cogeneration unit - the first power plant acquired by Albioma in Brazil - represents a strategic investment for the Group in a country that remains the world's leading sugar producer.
Activities
The Rio Pardo Termoelétrica plant, which has been operating in the State of Sao Paulo since 2009, has an installed capacity of 60 MW. In 2014, it was acquired by Albioma, which also agreed a bagasse procurement deal with its sugar-refining partner Usina Rio Pardo.
315
thousand tonnes
of bagasse used in 2017
73
GWh
of electricity generated in 2022
Biomass and energy production
In 2017, 315,000 tonnes of bagasse were used, along with other locally-sourced biomass such as sugar cane straw and wood chips, to produce 81 GWh of electricity.
International development
The acquisition of the Rio Pardo Termoelétrica cogeneration plant also reflects Albioma's ambition to expand internationally by exporting its thermal biomass model. With more than 400 sugar refineries and steadily increasing energy needs, Brazil is a promising market for biomass-fuelled power generation, hence the investment strategy aimed at enhancing the Group's production capacity in the country over the long term.
In a thermal power plant, cogeneration refers to the ability to simultaneously produce electricity and heat from the same primary energy source. Rather than being lost to the environment, heat generated by the combustion process is recovered, improving the plant's overall energy efficiency.