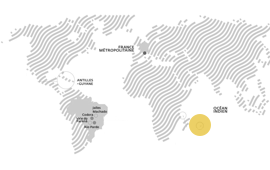 Type :

Solar power plant

Installed since:

2019

Installed capacity:

1,34 MWp

Address:

106 rue Paul Verlaine, 97420 Le Port, La Réunion
In 2019, Albioma commissioned Reunion Island with a solar power plant equipped with an innovative energy storage system, in Port-Ouest.
Plant description
The Port Ouest solar power plant was built following a 2016 request for proposals issued by the French energy regulator (Commission de régulation de l'énergie – CRE), covering the construction and operation of facilities with integrated energy storage in non-interconnected regions. The plant is installed on the roof of two industrial buildings used for port activities in Le Port, a commune in the north-west of Reunion Island. It occupies a total area of 10,600 sq. m and has an installed capacity of 1.34 MWp.
Innovative battery-based energy storage
The Port Ouest plant is able to operate continuously, using lithium-ion battery storage technology to overcome the inherently intermittent nature of solar energy. The 1,330 KWh batteries store energy during the day and then release it during evening peak consumption periods (between 7 and 9 pm). This plant is also equipped with an energy management system that uses weather forecasts to plan production and provides real-time power output data to the network manager.