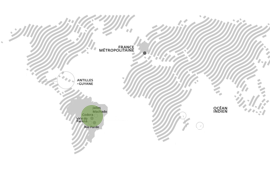 Type:

Thermal biomass power plant

Installation:

2021

Installed capacity:

48 MW

Workforce:

33
Pursuing its investments in Brazil, in 2016 Albioma announced the signing of a cooperation agreement with Vale do Paraná, one of its sugar partners, for the construction of a cogeneration unit in the state of São Paulo.
Activities
This is the first Brazilian project for which the Group is involved in construction, connection to the network and operation; the future plant will be jointly owned by Albioma and Vale do Paraná. When commissioned, scheduled for 2021, it will have an installed capacity of 48 MW, of which 30 MW will be exported to the electricity grid.
455
thousand tonnes
of bagasse used, after crushing 1.7 Mtc
120
GWh
of electricity exported to the grid from 2021
100
%
locally-sourced biomass
Biomass and energy production
The future Vale do Paraná plant will be adjacent to the distillery of the same name, which has an annual crushing capacity of 2 million tonnes of sugar cane. It will be able to export 120 GWh of electricity annually to the grid, in a country where bagasse is becoming an essential resource as energy needs increase.