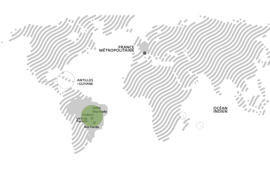 Installed capacity:

31,6 MWp
Albioma finalised on 17 August 2022 the acquisition of a portfolio of six photovoltaic power plants in Brazil with a total installed capacity of 31.6 MWp.
Under the terms of the contract signed with GreenYellow, expert in decentralized solar photovoltaic production, energy efficiency projects and energy services in France and abroad, Albioma becomes the sole shareholder of the companies owning these projects operating under a distributed generation system with high-quality counterparties. The power plants are located in four states and are fully operational.
The acquisition of this portfolio marks Albioma's entry into solar power in Brazil, a business with strong growth potential and which complements its existing assets.
Operating its historical biomass business model in Brazil since 2014, Albioma is thus continuing to develop here, in line with its international diversification strategy.