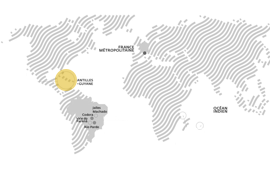 Type:

Solar power plant

Installed since:

2010

Installed capacity:

4 MWp

Address:

16 rue des artisans-za du bac, 97220 La Trinité, Martinique
Since 2010, the Lassalle solar power plant has been generating renewable electricity in Martinique, a region not connected to mainland power networks.
Plant description
Located on Martinique's North Atlantic coast, the Lassalle solar power plant features an array of 53,382 photovoltaic panels on an 8-hectare site. It was commissioned in December 2010 and has an installed capacity of 4 MWp.
Natural ground maintenance
A solar power plant requires regular upkeep throughout its operating period. Although the customary 10° inclination helps PV panels to self-clean with rainwater, the same does not apply to the ground, where vegetation grows both below and alongside the panels. In Lassalle, Albioma has opted for a totally natural solution, enlisting a flock of sheep to tend to the site!