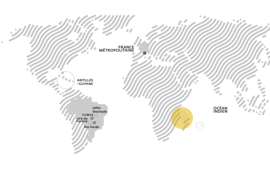 Energy:

Solar

Installed since:

2006

Installed capacity:

3,8 MWp
Albioma has been the leading producer of photovoltaic energy in Overseas France since 2006; the Group is rolling out this business in the Indian Ocean, and specifically Mayotte, a territory not connected to continental electricity networks.
Activities
In Mayotte, Albioma operates a photovoltaic fleet with an installed capacity of 3.8 MW.
All power plants are sited in locations free from conflicts of use, including the one above Mamoudzou market, which features 725 KW of solar panels, making it the Group's most powerful rooftop plant. In keeping with the objectives defined in France's multi-year energy plan, Albioma is contributing to the development of renewable energy in Mayotte, while also consolidating the Group's status as a major stakeholder in the energy transition.
3,8
MWp
Total installed capacity in 2018
5
GWh
Total annual production in 2018
Find out about our solar power plants in Mayotte