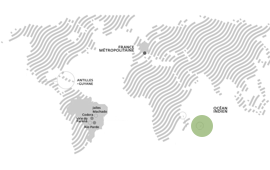 Energy:

Biomass and solar

Installed since:

1992

Installed power capacity:

210 MW

Installed solar capacity:

39,9 MWp
As the leading electricity supplier in Réunion Island, Albioma produces 46 % of the energy available in the grid by operating two thermal biomass power plants, a bioethanol combustion turbine and a large photovoltaic fleet.
The beginnings of cogeneration
In 1992, at the Bois-Rouge site, Albioma commissioned the first thermal power plant in France that was able to transform bagasse into renewable energy. This innovative model, which is based on a partnership agreed with the sugar industry, has been successfully replicated both on an international scale and in Réunion Island, where a second cogeneration unit was opened in Le Gol in 1995. In 2019 Albioma has commissioned the first combustion turbine in the world operating on bioethanol in order to meet consumption fluctuations on the grid.
Albioma Bois-Rouge converts to all-biomass operation
Conversion work began in 2021 and the plant will operate exclusively on biomass by the second half of 2023, using local biomass resources.
The Group is ending use of coal at its flagship plant.
This will cut the facility's greenhouse gas emissions by 84% from current levels.
The Energy Regulation Commission's assessment also provides for an investment budget, to stretch out the service life of the Group's oldest unit (ABR1) by 15 years; accordingly, the power purchase agreement has been extended from 2027 to 2043.
Biomass storage domes in the Port Est dock complex have been inflated as part of these conversion works. These 49 m tall, 45,000 cu. m domes are now visible from the municipalities of Le Port and La Possession, as well as nearby roads.
Find out about our thermal power plants in Réunion Island
Solar energy, an activity with strong growth
With a 36,8 MW installed capacity in 2021, Albioma is the leading producer of photovoltaics in Réunion Island. These photovoltaic power plants are all located in areas where there is no conflict of use, such as La Star, which was built on a landfill site that was still in operation. Others are located on the roofs of buildings, such as those on the E. Leclerc shopping centre, the covered playground of the Iris Hoarau school – for own consumption purposes – and the Grand Port Ouest. The latter was commissioned in 2018 and can operate continuously using a battery storage system enabling electricity to be sent to the grid during peak consumption periods. An excellent supplier of peak energy, solar power has a rosy future ahead. As part of the partnership signed with the Réunion social housing association, the Group has constructed 51 photovoltaic power plants in 2019 on residential roofs.
Find out about our solar power plants in Réunion Island