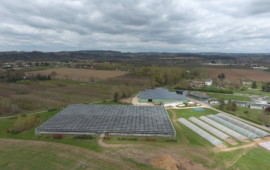 Type:

Solar power plant

Status:

In service since 2012

Installed capacity:

1,1 MWp

Address:

Route de Casseneuil, 47110 Sainte-Livrade-sur-Lot
The first Albioma photovoltaic greenhouse in Metropolitan France.
Site description
4,596 panels are installed on one of the high school buildings and on the agricultural greenhouse where the crop tests are carried out.
With a capacity of 1.1 MWp, it was commissioned in 2012.