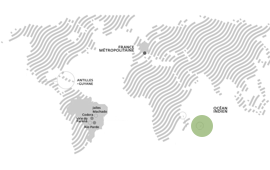 Energy:

Biomass and coal

Installed since:

2000

Installed power capacity:

195 MW
Albioma has long-established roots in Overseas France, and since 2000 we have been rolling out our core business in Mauritius, generating electric power for the island.
The world's first successful implementation of the thermal biomass model
Respectively commissioned in 2000, 2005 and 2007, the Terragen, Saint-Aubin and Savannah thermal power plants were designed, built and are now being operated by Albioma and the Group's partners, Terra and Omnicane. They have a combined installed capacity of 195 MW, supplying 39% of all electricity produced in Mauritius in 2018, much of which from bagasse.
195
MW
Total installed capacity of the three power plants in 2017
1 090
GWh
of electricity exported to the network in 2018
Learn more about our Mauritian plants
Unique partnership with industrial sugar refiners
Each year, millions of tonnes of sugar cane are harvested and crushed to supply Mauritian sugar refineries. Bagasse – a by-product of sugar cane – is used as a fuel in power plants, producing a combination of electricity and low-pressure steam in a co-generation process. In 2018, Albioma's plants exported a total of 1,090 GWh of electric power to the Mauritian grid!