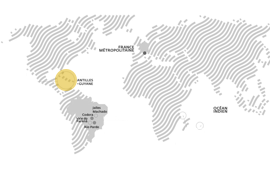 Type:

Solar power plant

Installed since:

2009

Installed capacity:

127 KWp

Address:

KIABI, 4, Lotissement de Bologne, ZAC de Calebassier, 97100 Basse-Terre
Commissioned by Albioma in 2009, the solar power plant at the SRA Callard site in Guadeloupe supplies renewable electricity for this region, which is not connected to mainland power networks.
Plant description
Located in Basse-Terre in western Guadeloupe, the SRA Callard solar power plant has an installed capacity of 127 KWp. In 2021, it generated 169 MWh of renewable electricity for the network, supplementing the island's other power plants.
No conflicts of use
The 728 panels at the SRA Callard solar power plant are installed in an area free from conflicts of use: on the roof of a retail building, where they occupy a total area of 1,000 sq. m.