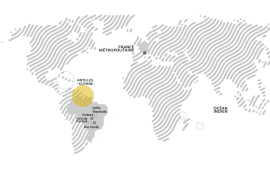 Type:

Solar power plant

Status:

In service since 2010

Installed capacity:

12 MWp

Address:

Point kilométrique 9, route de Degrad Saramaka, Lieu-dit « Savane Aubanèle », 97310 Kourou, Guyane française.
In Kourou, Albioma commissioned the largest solar power plant in French Guiana and the entire French overseas territories in 2010.
Presentation of the site
With 12 MWp of installed capacity, the Kourou solar power plant is capable of producing up to 10% of French Guiana's electricity over a year. In 2022, it supplied 12.6 GWh of electricity, contributing largely to the energy autonomy of this territory.
A plant without conflict of use
The Kourou solar power plant is located on land unsuitable for other uses on which 156,000 photovoltaic modules are deployed, making it the most powerful facility in Overseas France.