Energy:

Geothermal

Present since:

2021

Installed heating capacity:

31 MW
In 2021, Albioma acquired the Group's first geothermal power plant, in Turkey and confirms its interest in geothermal energy with a second acquisition in February 2022.
With 80% of the country situated in an area of extremely intense tectonic activity, Turkey is particularly well placed for geothermal electricity production. This inexhaustible, constantly available source of renewable energy is tapped by recovering heat from inside the Earth.
With an installed capacity of more than 1,600 MW, Turkey ranks fourth in the world for installed geothermal capacity, with considerable potential for further development.
Gümüşköy power plant – Albioma's first step in geothermal energy
In January 2021, Albioma announced the acquisition of a majority stake (75%) in the Gümüşköy geothermal energy power plant (GEPP) (in the Izmir region); the remaining 25% was acquired by Egesim, a well-known Turkish industrial contractor specialising in the geothermal energy sector.
The acquisition gave Albioma a bridgehead in a new business characterised by significant technical added value, offering a strong fit with the Group's established biomass and solar energy businesses.
GEPPs extract geothermal heat from underground and convert it into electricity. This locally-produced, economically competitive energy source is available on a 24/7 basis Like biomass, geothermal energy production is controllable, which enhances the dependability of electrical networks and facilitates the development of other, intermittent energy sources such as solar power.
Long-term investment
Commissioned in 2013, the Gümüşköy GEPP uses heat from four production wells to generate electricity under the terms of an operating licence valid until 2040 (with an option to extend it for an additional 10-year period). The plant has an installed capacity of 13 MW, and currently exports up to 45 GWh of renewable electricity to the grid annually, with a dollarised feed-in tariff of approximately USD 105/MWh, valid until 2023.
Production capacity upgrade works are to be carried out at the facility, with support from the existing workforce retained by Albioma.
Kuyucak, the Group's second geothermal power plant in Turkey
Albioma finalizes on 14 February 2022 the acquisition of the geothermal power plant Turcas Kuyucak Jeotermal Elektrik Üretim A.Ş. (renamed Kuyucak Jeotermal Elektrik Uretim A.Ş.), in Turkey, by becoming its sole shareholder.
The Kuyucak power plant (18 MW gross) was commissioned at the end of 2017 and is based on an operating license expiring in 2042 (with the possibility of extension for a period of 10 additional years). It produces electricity from 5 production wells for a net exported production at the end of 2022 of 90 GWh.
This new operation allows the Group to strengthen its presence on the geothermal market and to continue to improve its skills in this new business. We are gradually building up a platform of quality industrial assets.
Find out about our geothermal power plants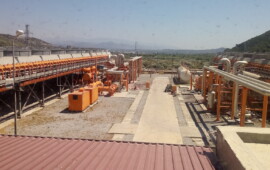 Type:

Geothermal power plant

Status:

In operation since 2013

Installed capacity:

13 MW
Find out more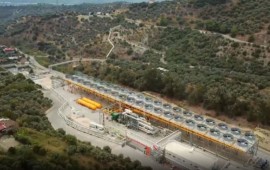 Type:

Geothermal power plant

Status:

In operation since 2017

Installed capacity:

18 MW
Find out more