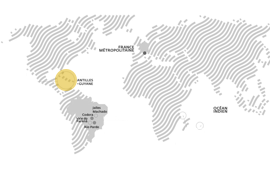 Type:

Solar power plant

Installed since:

2009

Installed capacity:

1 MWp

Address:

Centre de valorisation organique, quart Pointe Jean Claude, site de l'Estrade, 97231 Le Robert, La Martinique
In 2009, Albioma began operating one of Martinique's largest rooftop solar power plants, atop the organic waste-to-energy plant (CVO) in Le Robert.
Plant description
Located in eastern Martinique, in the island's third-largest city, the solar power plant at the Le Robert CVO organic waste-to-energy plant has an installed capacity of 1 MWp. The plant, installed on the roofs of industrial buildings on a 6-hectare site, generated nearly 1.22 GWh of electricity in 2018.
No conflicts of use
The CVO solar power plant is built on rooftops, enabling it to harness the available land footprint without conflicting with the organic waste-to-energy plant's core business.