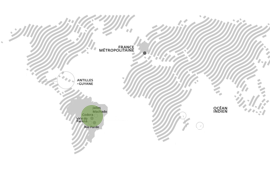 Energy:

Biomass and solar

Installed since:

2014

Installed power capacity:

242 MW

Installed solar capacity:

31,6 MWp
Since 2014, Albioma has been rolling out its thermal biomass model in Brazil, a country where the sugar industry means strong development potential for the production of renewable energy from bagasse.
The Group is entering the Brazilian solar market in 2022.
Activites
Brazil is the world's biggest producer of sugar and ethanol, with nearly 400 sugar mills operating nationwide. Sugar harvests are also longer than in Overseas France, enabling the plants taken over by Albioma to be fired all year round using only locally-sourced biomass, in order to provide renewable electricity on the grid.
Learn more about our Brazilian plants
Entry into the solar market in 2022
Albioma finalised on 17 August 2022 the acquisition of a portfolio of six photovoltaic power plants in Brazil with a total installed capacity of 31.6 MWp.
Under the terms of the contract signed with GreenYellow, expert in decentralized solar photovoltaic production, energy efficiency projects and energy services in France and abroad, Albioma becomes the sole shareholder of the companies owning these projects operating under a distributed generation system with high-quality counterparties. The power plants are located in four states and are fully operational.
The acquisition of this portfolio marks Albioma's entry into solar power in Brazil, a business with strong growth potential and which complements its existing assets.
Albioma is thus continuing to develop here, in line with its international diversification strategy.