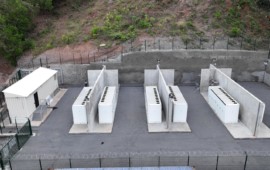 Type:

Solar power plant

Status:

In operation

Installed capacity:

7,4 MW

Adress:

RN1 - Koungou, Mayotte
This innovative project contributes to the electricity supply/demand balance, to greater integration of intermittent renewable energies and to the optimization of the means of production.
With a storage capacity of 7.4 MW, it reduces CO2 emissions from the thermal park in Mayotte.
Its installed power represents approximately 10% of the peak power of Mayotte's electricity network, which it is capable of delivering for a period of 2 hours. This energy reservoir allows Energie De Mayotte (EDM) to move energy according to a program that it defines in advance in order to optimize its production costs.
In general, the batteries are charged during periods of strong sunlight and discharged in the evening, at peak, when the network needs them the most and as a substitute for thermal groups. Albioma teams constantly monitor the proper functioning of the plant, and operate and maintain it to ensure a high level of availability.
This project, by providing system services to the network operator, will participate for 25 years in securing Mayotte's electricity supply and better integrating intermittent renewable energies into the Mahoran energy mix.
Discover the site in video (in French):