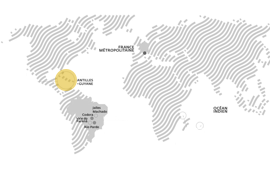 Type:

Solar power plant

Installed since:

2011

Installed capacity:

511 KWp

Address:

97230 Le Vauclin, Martinique
In Martinique, Albioma has built and operates 11 solar power plants located on apartment buildings managed by SIMAR (the island's largest social housing provider), including one on the Concorde building.
Plant description
The SIMAR Concorde power plant is one of a series of rooftop solar power facilities built by Albioma between 2009 and 2011 on residential and commercial buildings. It has an installed capacity of 511 KWp and in 2022, generated 576 MWh of electricity, part of which is used to light the buildings' common areas.
Upgraded real estate
SIMAR's assets include 9,000 homes with a combined roof area of 30,000 sq. m, on which the photovoltaic panels of the solar power plants operated by Albioma are installed. Commissioning these facilities doubled Martinique's solar power generation capacity, making a significant contribution to the energy transition in this French overseas territory.