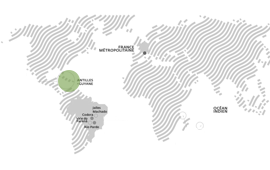 Energy:

Biomass and solar

Installed since:

2007

Installed power capacity:

80 MW

Installed solar capacity:

14 MWp
Since 2007, Albioma's thermal biomass and photovoltaic businesses have been enhancing the energy independence of Martinique, which is not connected to mainland electrical networks.
Our activity helps to stabilise the electricity network
In Martinique, Albioma has built, commissioned and is now operating the Galion combustion turbine and the first all-biomass thermal power plant in Overseas France. Against the backdrop of the energy transition, this new facility, Galion 2, covers approximately 15% of the island's power needs, while also enabling the share of intermittent energy sources such as solar power to be increased.
80
MW
Combined installed capacity
Find out about our thermal power plants in Martinique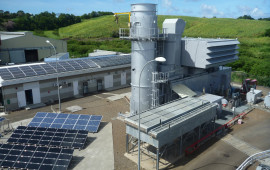 Type:

Combustion turbine

Installed since:

2007

Installed capacity:

40 MW

Workforce:

40 (shared with Galion 2)
Find out more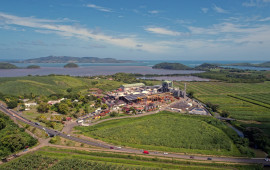 Type:

Biomass thermal power plant

Installed since:

2018

Installed capacity:

40 MW

Workforce:

40
Find out more
Building a photovoltaic energy business
Alongside the Group's thermal biomass activity, Albioma operates a fleet of 31 photovoltaic power plants in Martinique. All were built between 2008 and 2011, in areas free from conflicts of use, either on the ground (Lassale) or on the roof of residential properties (SIMAR) et or industrial buildings (Dillon distillery, a municipal waste treatment plant or the Galion sugar refinery). In 2018, these installations supplied 17.6 GWh of renewable electricity to the Martiniquan network, representing nearly one quarter of all photovoltaic power generated on the island. As well as contributing to the regional energy transition, this output is set to increase by around 500 kWp in 2019, as new projects come onstream.
14
MW
Combined installed capacity
17.6
GWh
Combined annual production
Find out about our solar power plants in Martinique