Developing the local fabric
Albioma's strategy is perfectly aligned with the "circular economy" philosophy, with an emphasis on strong roots in local communities, long-term job creation and social cohesion.
Supporting the circular economy
Albioma has developed a unique, virtuous partnership with the sugar industry over the past 25 years. Our thermal plants recover bagasse, a fibrous residue obtained when cane is crushed during sugar harvests. In exchange for supplying us with bagasse, we provide our partners with the steam and electricity they need for their sugar production process.
Through this arrangement, we are helping to protect the sugar cane industry (which represents several thousand jobs in the regions in which we operate), and promote the recognition of sugar cane as an energy source, via a bagasse premium paid to cane growers in the French Overseas Departments.
In 2019, we ramped up our efforts to develop the local economic fabric, commissioning the world's first peaking combustion turbine to run partly on bioethanol, produced by distilling molasses from sugar cane grown on Reunion Island. This world première plant, designed to operate during peak electricity consumption periods, provides a local commercial outlet for surplus molassess not used to produce industrial alcohol by the facility's partner, the Rivière du Mât distillery. 
More recently, we worked extensively with local contractors for the fume treatment upgrades at our three long-established plants in Overseas France (Bois-Rouge, Le Gol et Le Moule). The planned conversion of our facilities to biomass will sustain this trend, not least by fostering new local biomass collection and processing industries.
Albioma steps up to protect biodiversity
When the MV Wakashio bulk freighter ran aground, subjecting Mauritius to the threat of an environmental disaster, our staff at Terragen and OTEOLB sprang in to action to safeguard biodiversity in and around Pointe d'Esny. We allowed stockpiled bagasse at our two power plants to be used as an absorbent material, and provided straw bales to assemble floating booms.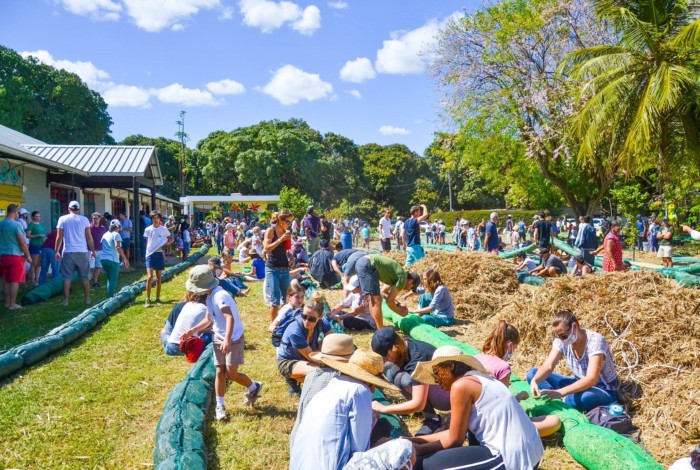 Promoting a responsible economy
Albioma's involvement in the local economy is backed by a corporate social responsibility programme. With our employees and partners, we carry out initiatives to identify, measure and analyse biodiversity protection issues.
In particular, we supported the 2019 Sarg'expo international conference organised in Guadeloupe 2019. This conference, organised by the Regional Authority in partnership with the French Ministry of the Overseas, was part of a broader Caribbean campaign ot control sargasso seaweed, which is responsible for eutrophication of the marine environment. 
Lastly, our partnership with the Foundation for Research on Biodiversity, via an "action club" devoted to Overseas France, led to the emergence in 2019 of a project to map the distribution and intensity of biodiversity pressures (as defined by IPBES) in each overseas territory.