Energy:

Geothermal

Present since:

2021

Installed heating capacity:

13 MW
In 2021, Albioma acquired the Group's first geothermal power plant, in Turkey. With 80% of the country situated in an area of extremely intense tectonic activity, Turkey is particularly well placed for geothermal electricity production. This inexhaustible, constantly available source of renewable energy is tapped by recovering heat from inside the Earth.
A strategic region
Turkey's installed capacity approaching more than 1,600 MW makes it the world's fourth-biggest  geothermal electricity producer (after the USA, the Philippines and Indonesia) with considerable potential for future development. In a geothermal process, electricity is produced from the Earth's heat by converting hot brine from an underground reservoir into steam, which in turn powers a turbine generator. This energy source emits no carbon dioxide and can be harnessed to deliver a constant supply of renewable electricity to the grid.
Find out about our geothermal power plants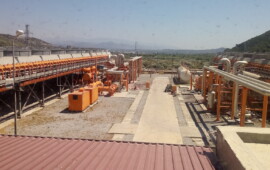 Type:

Geothermal power plant

Status:

In operation since 2013

Installed capacity:

13 MW
Find out more