Thermal
Biomass
Albioma has built on its experience in energy recovery from bagasse to become the key partner of industrial sugar refiners.
Supplying plants with bagasse in return for the supply of steam and electricity for sugar refineries is a sustainable model which gives these refiners a decisive competitive edge. The energy efficiency of its plants enables Albioma to sell the power it produces to electricity distributors while helping them cater for increasing electricity consumption.
The Group's thermal power plants, built near sugar refineries, are designed to recover all the bagasse produced. Through these facilities, the Group has demonstrated its expertise in harnessing hybrid combustion technology to produce electricity and heat.
In France and Mauritius, during the sugar campaign which lasts between four and six months, the plants operate as cogeneration units, with bagasse as the main fuel. Between campaigns, they operate using a condensing process in the same way as conventional power plants, using coal. It can be used in a hybrid-combustion configuration to supply energy all year round at a competitive cost while complying with European and French atmospheric emissions standards.
In Brazil, the duration of sugar campaigns (nine or ten months) and the quantity of sugar cane processed by sugar mills enables the Group's cogeneration facilities to operate using bagasse all year round (i.e. about 11 months out of 12, as the last month is set aside for annual maintenance).
In keeping with the Climate Plan, Albioma aims to replace coal with new types of sustainable biomass in addition to bagasse. As the Group's plants are already designed to operate using a variety of fuels, this change in energy mix will require less capital expenditure than the sums invested by certain European power companies to convert their 100% coal-fired plants to biomass.
The Group's new power plants are designed to meet the challenges set by the energy transition: Galion 2 in Martinique is the first 100% bagasse/biomass power plant in Overseas France and the combustion turbine on Reunion Island will be the first in the world to run on bioethanol.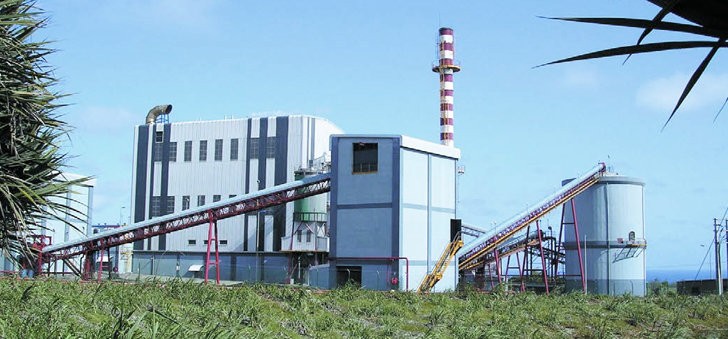 Nos chiffres clés

Total thermal power installed capacity

Thermal biomass elecricity generation in 2017

KWh exported per tonne of sugar cane

The availability rate of our generating plants in 2017 (excluding Brazil)

Our unique expertise in hybrid combustion and cogeneration means that competitively-priced energy can be provided all year round in full compliance with European atmospheric discharge regulations.